Weekend in the Mountains
My third week in Costa Rica was quite busy, with the beginning of Spanish classes at the Universidad Nacional, or UNA. Since we're packing six credits into five weeks, we have to go for four hours every Monday, Tuesday, Thursday, and Friday, as well as two hours on Wednesday. Our professor is wonderful and incredibly enthusiastic, so four hours often flies by with only five of us in a class with her. On Tuesdays, Wednesdays, and Thursdays we also have a class with Heidi (our resident director), which often includes field trips, so this third week was very tiring! However, at the end we got to relax and have fun with a weekend trip to Savegre mountain reserve.
One of my favorite parts about going to the mountains is the ride there. Sitting on a bus for 2+ hours of less than smooth riding may be a struggle for some people, but with a window seat and my headphones in, I am a happy camper. The views are absolutely breathtaking.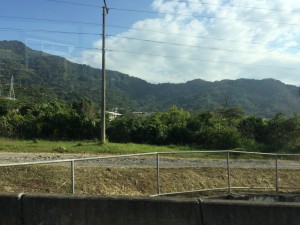 Once we got to our cabin, one the first things we realized was that it was cold. Not nearly as cold as Valpo right now (so I guess we shouldn't have been complaining), but when you sign up for a semester in Costa Rica, that's not something you expect!   We still had a fun night relaxing in the cabin and meeting some new people that came on the trip with us, many of whom only spoke Spanish.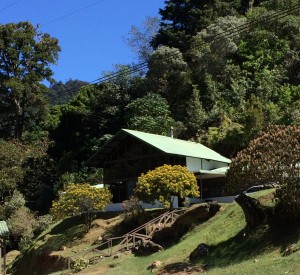 Our lovely little home for the weekend!
The next morning started bright and early, with a bird watching hike at 5:30 am! After our long week of classes we were less than thrilled to be waking up at this hour, but we got to see an extremely rare bird, the quetzal. This bird can only be found in Central America, and our tour guide knew the exact spot to go so we would be able to see it. Maybe the early morning was worth it after all!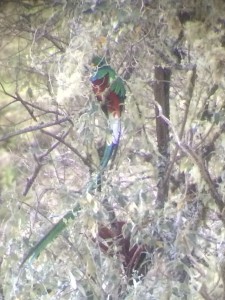 Taken through our tour guide's binoculars.   This bird is gorgeous!
After breakfast and a couple hours to relax and explore, our group went fishing for our lunch. Yes, you read that right—we fished for our lunch. I couldn't believe it when I first heard, because I have never even held a fishing pole, much less eaten something I caught myself. It turned out to be a really fun time, and the trout tasted pretty good (to me at least)!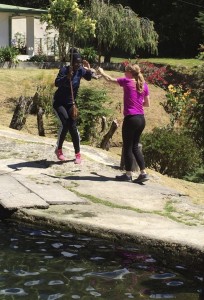 Eboni got one!  Catching a fish for the first time is a little intimidating, so often getting it off the pole is a two person effort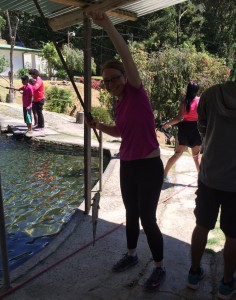 "I'm really excited about this, but please hurry up and take the picture so I can get rid of it!"
After lunch, we decided to go hiking. We got some exercise in while coming across incredibly gorgeous views!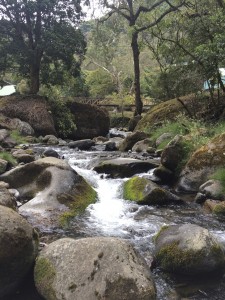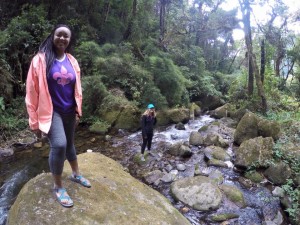 Betsy and I taking the "risk" of climbing slippery rocks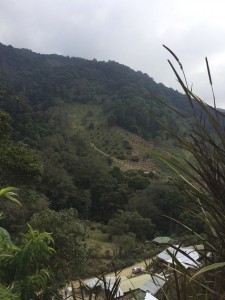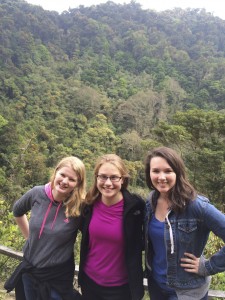 Samantha, Erica, and I felt pretty "on top of the world" after finishing our hike up the mountain!
The rest of the day was pretty free, but we had a lot of fun hanging out both with the other students and with new friends on the trip. We got to practice our Spanish with the Spanish speakers, but still had the comfort of our friends and fellow English speakers around. That night, I also went outside and saw more stars than I had ever seen in my life. Although it was cold out, the sight was incredible.
The next morning brought on our next and final adventure for the weekend: horseback riding! I have never ridden a horse before, so it was another completely new experience for me. It was a little scary but also a lot of fun, and we got to ride through the mountains and streams for about two hours. It was lovely until the horses got to the end and started running! We were all very sore from it the next day, but it was a great time. There was also a running joke about my horse being the "rude horse" because for some reason he kept snubbing the other ones and trying to push in front of them! Qué vacilón!*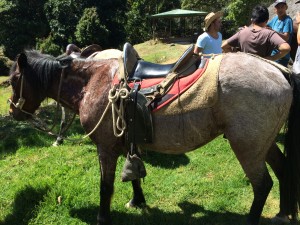 My horse!
After a full weekend, we returned to our homes in Heredia. The third week was a bit overwhelming with the sudden course load, but the weekend was a wonderful reminder of the beauty of this country. Looking around at the mountains or down at the streams or up at the stars never fails to amaze me. Tranquila.**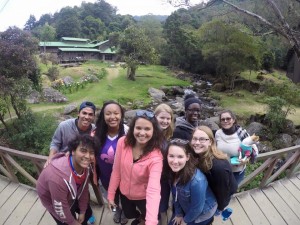 *One of our professor's favorite phrases, which means "how fun/funny!"
**My favorite colloquial phrase so far, used to mean a number of things such as, "Chill out/everything's okay/no big deal/don't worry about it/calm down."