Assumptions and Fears
No one likes to feel different. Walking around a strange city where everyone knows I don't belong just by looking at me has been a completely new experience. People stare at me all the time, and they try to use the little English they know with me, which is sometimes nice and sometimes just insulting, depending on the situation. As much as I hate being stared at and feeling helpless when I don't understand what people are saying, being an outsider has been an incredibly eye-opening experience.
In general, people are afraid of the "other." We tend to group up with people who are familiar because that's when we feel safe. I know that I am guilty of this, both in the United States and Costa Rica. At Valpo, I never said a word to the international students I passed, and was even a little intimidated if they were all speaking a foreign language. Now, I am one of those people. I walk to class at the university speaking English with my friends, while passing by students giving us strange looks. Being here has definitely given me a new respect and empathy for the international students on Valpo's campus. It's hard to be in a place where people don't speak your first language, and it's terrifying to try to talk to someone because you don't know how well you will be able to understand each other. Finding just one person who is patient, friendly, and willing to help is a huge blessing.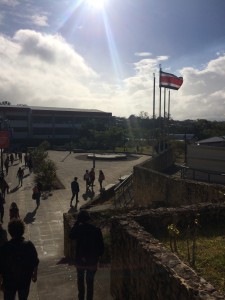 Our walk to class at the Universidad Nacional (National University)
Another thing that keeps us from branching out of our comfort zones is assumptions. We assume things about people all. the. time. Many Costa Ricans assume I am a tourist who doesn't speak any Spanish. For example, on a field trip with my Spanish class I was walking a little bit outside of the group, and a street vendor caught my eye and said, "Hello lady, welcome to Costa Rica!" Two thoughts went through my head: First of all, saying "hello lady" sounds weird, so I could tell he didn't know English that well. Secondly, I had been in Costa Rica for a few weeks! I could have had a small conversation with him in Spanish, so his trying to speak broken English to get me to buy something didn't make me feel welcome but was instead just insulting.
The assumptions about people go both ways, though. One day I got off the bus in my neighborhood with two other students, and we heard a man behind us making the hissing noise that is equivalent to catcalling in the U.S. I was really annoyed and just kept trying to walk faster, but he wouldn't stop. Then we suddenly heard a woman yell out, "Muchachas!" ("Girls!"), so we turned around. She was standing with the man, who had been trying to get my attention to let me know I had money sticking out of my back pocket. He could have easily taken it, but instead he chose to persistently try to get my attention so I could put it away. Someone was trying to do something nice for me, but I assumed he was being rude.
Even within Costa Rica, people make assumptions based on appearance. Last weekend we had the privilege of going to the Caribbean coast in the province of Limón, which is largely made up of Afro-Costa Ricans. It is a slightly poorer area than the part of Costa Rica where we live (near San José), and many people are afraid of going there. Costa Rica has never had explicit racism (such as Jim Crow laws in the U.S.), but they have more subtle racism which still exists today. Limón is beautiful and in reality is no more dangerous than other parts of Costa Rica. But for some reason, people perceive it to be different, and many assume that every person who appears to be of African descent is from Limón. We had a wonderful time there, met some really great people, and never felt unsafe.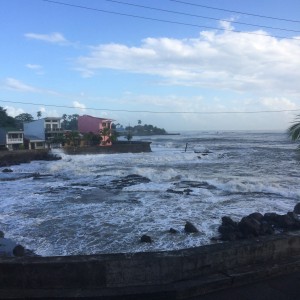 The coast is beautiful!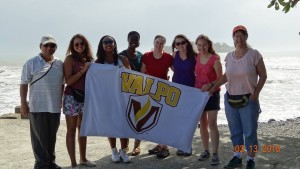 The island in the distance is where Christopher Columbus landed, and he called the place Costa Rica ("rich coast")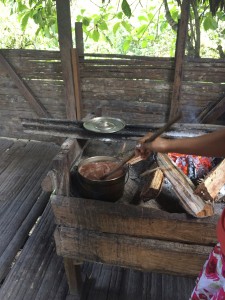 We went to an indigenous community and learned how to make chocolate!
To close, I'd like to share one more story: One Monday morning, as I was walking to the bus stop, I noticed a strange-looking man out of the corner of my eye. Wanting to avoid him, I stopped at my friends' house to wait for them to come outside (as usual) and made sure I just knocked and looked straight ahead at their door. Suddenly I sensed someone right behind me, so I turned around. Standing about two feet away from me was your classic picture of a homeless person. He was hunched over, dressed in rags, had unkempt hair, and was missing an arm. He just stared at me and held out his hand, which contained a coin. In that moment, I was terrified. I just stared at him wide-eyed and then quickly walked away. I live in a gated community, so I walked toward the security guards standing nearby. They saw what had happened and could tell I was scared, but all I could make out from what they said to me was "Tranquila!" (Don't worry about it). The man was gone, so I walked back toward the bus stop, still shaking. I've never seen him again.
Upon further reflection of the situation, I wondered: Why was I so scared? I had the upper hand in the situation.   I was standing at my friends' house (who would come outside any minute), within earshot of two security guards whom I know personally. I had a backpack full of books, two cell phones, four limbs, not to mention a blue passport to my name. What could he possibly have done? This man had nothing. Yet all I could do was look at him in sheer terror and walk away.
My challenge to myself is to stop being scared. To stop assuming and start listening. People are a lot more than we think they are, so let's take the time to get to know them and hear their stories before making surface-level assumptions.