7 Things I'll Miss About Costa Rica
As my semester winds down, I have had a lot of time to reflect on all that has happened over the last few months. It has been full of ups and downs, but mostly just FULL of new experiences. Here's a list of some of my favorite things about Costa Rica (and what I'll miss most).
The people.   Between host families, professors, kind strangers (and more!), I have been overwhelmed by how friendly and welcoming everyone is here.   I have also had a lot of fun striking up conversations with random people while traveling, whether that is a fellow university student on a bus ride after a long day or some guys from Chicago at a hotel or a woman from France on the bus to the beach.  Everyone has a unique story to tell!
The UNA (National University). I love Valpo, but something about this beautiful campus with amazing professors and extremely friendly students stole my heart.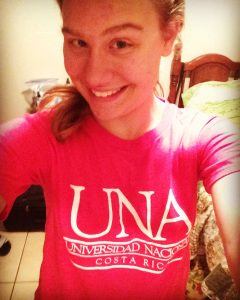 Shameless selfie to show off my new UNA gear
3. The weather. I came to a tropical climate during Valpo winter. 'Nuff said.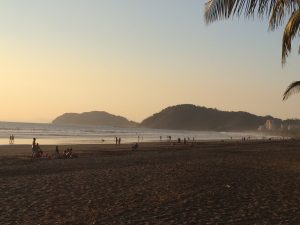 Remember when I went to the beach in February?
The scenery. Costa Rica has everything from beaches to mountains to waterfalls to exotic animals. There's always something to take a picture of.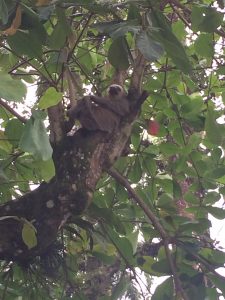 Sloth we saw on the Atlantic coast.  I promise I took this picture with my own phone!
The fruit. It's just better here. Plus, there's way more options!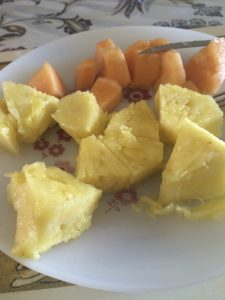 Perfect afternoon snack.  This may look similar to what you can find in those plastic cups at the Union, but I can assure you there is no comparison.
The language. One of my biggest personal accomplishments has been learning a new language. I am far from perfect in Spanish, but learning to communicate in such a pretty language has been incredibly rewarding. When you don't really understand the words of people around you, you learn to rely a lot on body language and tone of voice as other ways of communicating. I've also had a fair share of "Spanglish" conversations, and there is something very strange but oddly beautiful about mixing the two.
My cohort. Somehow these five random Valpo students whom I barely knew before this trip became my primary support system. I am beyond grateful for all the memories and friendships we formed in these short four months. Couldn't have done this semester without these chicas!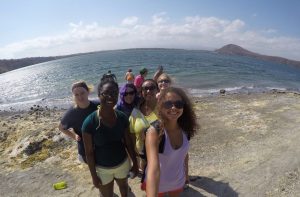 Here we are on the beach in Nicaragua
7.  POPS. Come to the USA, por favor?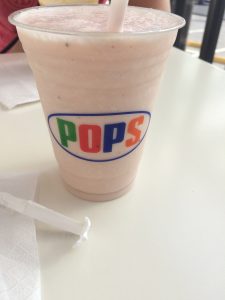 Because Dairy Queen just isn't gonna cut it for me this summer