Healthcare in Costa Rica
As a pre-med student, I feel sort of obligated to write about health and the healthcare system here in Costa Rica.  After all, one of the main reasons I chose to study abroad here was to learn about Costa Rican healthcare through the INTL 335 course, "Sociology and Ethics of Health and Health Care in Costa Rica" taught at Casa Adobe by Heidi with the opportunity of an internship in a healthcare setting.
To start, I feel like some people might assume that Costa Rica has a lower standard of health than the United States, maybe due to its location as a Central American nation and stereotypes based on its neighbors like Nicaragua.  While Costa Rica is comparatively "poorer" than the United States in terms of gross domestic product (GDP), it actually boasts similar or even better health statistics.  Furthermore, Costa Ricans pride themselves on their good hygiene.  Especially because it can get so hot here, they like to be very clean, bathing once a day at the least!
Next, the Costa Rican healthcare system itself consists of a social security system called the Caja Costariccense de Seguro Social (Caja or CCSS for short).  The three principles of this program are equity, solidarity, and universality.  Workers and employers pay a fixed percentage of their incomes into this system, in return for standardized healthcare services.  Because nearly everyone is required to pay into the system, nearly everyone receives the healthcare services provided by the Caja.  Two of the main complaints with the system include long wait times to be seen by a doctor and not being able to choose which doctor to see (it is generally whichever doctor is on staff at the time).  Nevertheless, there are private practices in which patients can be seen quickly and see their own doctors in return for paying extra.
Additionally, there is a greater focus on preventative health here.  Inadvertently, the long lines at the Caja for medical attention serve as an incentive to keep people healthy.  In a sense, if they stay healthy, they won't have to come see the doctor as much!  There is also a public health officer at each local clinic, called an EBAIS, that go around to each house in the neighborhood to do preliminary checkups, provide care to children and women in their child-bearing years, and take data on or educate the public about current diseases spreading around.  Furthermore, an EBAIS occasionally organizes public rallies or other educational events to promote healthful habits in the community.  I was lucky enough to participate in a health parade organized by a local EBAIS, where volunteers, school children, and healthcare professionals marched to raise awareness about healthy lifestyles.  At the end of the parade, there were various tents with informational brochures about child development, healthy relationships, dental hygiene, you name it!  There was also an instructor leading Zumba, which is a fun way for community members to get involved in regular exercise programs.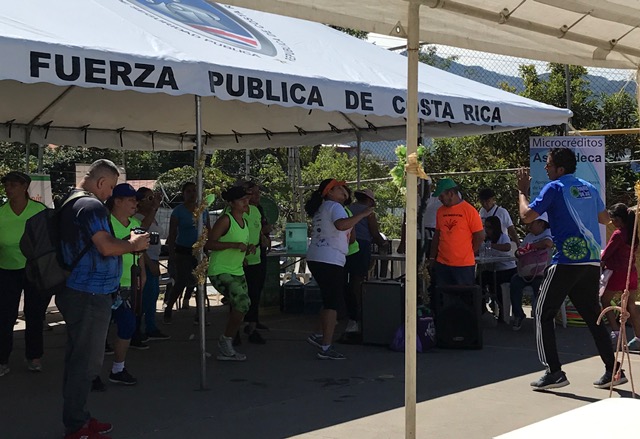 Finally, if you do get sick while studying abroad, don't freak out!  At least here in Costa Rica, you will be cared for in good hands.  While in Nicaragua, I got a bad upper respiratory infection.  When we returned to Costa Rica, I was reluctant to see a doctor because I was stubborn and a little nervous.  The cough persisted, so I finally went in.  Heidi took me to the private doctor that she usually brings students to if they get sick.  The appointment itself was 25,000 colones, which amounts to about $45.  The doctor was extremely respectful and knowledgeable, and even spoke English, which I didn't expect.  Furthermore, doctors in Costa Rica get lots of pharmaceutical samples, so if they have what you need, they'll give them to you without an extra fee, which was great!  Additionally, if your condition doesn't get better, you can go in again free of charge, which is a way to encourage patients to be attentive to their own health and not wait until conditions get worse and worse.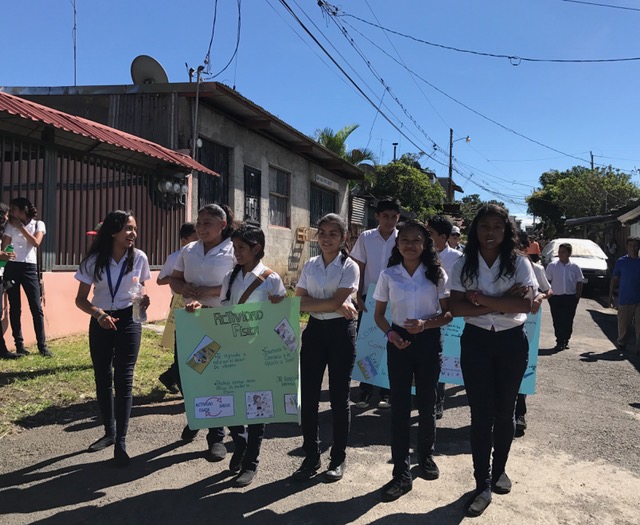 Overall, the Costa Rican healthcare system surprised me in its level of care and expertise.  The quality of care given throughout the country is very high, and the fact that care is almost "universal" is something to aspire to.  While there are obvious downfalls with the system, the overall idea that healthcare is a human right is something that is very important to me.  As a future practitioner, I'd like to integrate these principles of preventative health in my own practice and promote more widespread and equalized care for my future patients.
In all, I think that my experiences here in Costa Rica have opened my eyes to other models of healthcare that I didn't know could function so well.  Likewise, they have helped me develop a more extensive understanding of what really goes into providing quality healthcare and how I can implement these practices in my own career.