Su Casa
Your house. A phrase spoken by Ivannia and Carlos, the couple who lives in this house with their teenage son Alejandro, multiple times over my first couple days here to signify that this is my house as well as theirs.
I arrived at this house in Costa Rica at approximately 11pm, after having woken up around 3:50am for my flight out of Cincinnati. Understandably, upon arrival I was a little concerned. On top of my not knowing Spanish in order to communicate with the people in this country, the house also seemed a little strange to me. There are three sections of the house. One triples as a garage with plants, and a sitting area with a roof. It seems like the main room, but some of this area does not have a roof and one wall is halfway open to the air, with bars instead of a solid wall. This is like an outside room, which feels more inside than most yards.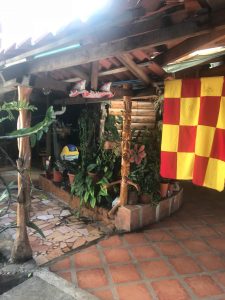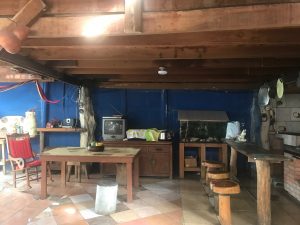 On either side of this big area there are indoor rooms. The interior sections are not completely closed off from each other, there are full glass doors which usually stay open, and from my bed room I can easily hear kids playing on the street, cats on the roof, and even the wind as if I were outside. So, the indoors feel more outdoors than I am used to.
I was timid on the first night, but as soon as the second or third night here I had come to a deeper appreciation of the house. There are imperfections such as varying types flooring in the outside room, a cracked tile here and there, missing paint at the bottom of some walls. But I  soon grew to like these aspects of our home, too. And as I got to know my host family better I learned that they built this house, with the help of extended family, themselves. Roofs and all! How impressive is that?
I would not do an explanation of this house justice if I did not talk about the people in it. Not only do I spend time with the three other people who live here, but every day at least 3 and up to 10 other family members and friends come through our house to eat, and talk, and laugh with us. On the first day I must have met at least 12 sisters, nephews, cousins, friends, boyfriends, and girlfriends. This was intimidating because I could not fully understand what was being said, and everyone knew that I hardly spoke any Spanish. But I could understand what was being said a little bit by what was going on. Because the sound of a family together in one language sounds much like family and friends together in other languages, with a difference only in the accents of the voices. Everyone here has included me and treated me as one of them, working to overcome the language barrier, which becomes less of a barrier every day.